Celebrate Mama's Day From Home by Cooking #MealsWithMama
Just a few weeks ago we made the difficult decision to cancel this year's Mama's Day, which would have taken place today, and would have also been a part of commemorating Mama's Kitchen's 30th Anniversary.
But who says we can't give a proper homage to such an epic event from the comfort of our own kitchen?
This year we invite you to join us in paying tribute to Mama's Day by cooking or enjoying takeout orders of healthy comfort #MealsWithMama. We are kicking off this virtual social festivity today by sharing a video of our very own Executive Chef Jason Martin whipping up one of his delicious dishes that we serve to our clients. This celebration will continue throughout the weekend with videos from our longtime chefs supporters of Mama's Day, running through Mother's Day on Sunday, May 10th. Videos will feature Sam the Cooking Guy and Chef Michel Malecot from The French Gourmet.
How can I participate in this celebration?
Join in on the fun! There are several ways you can celebrate with us:
TUNE IN: Watch and share the videos that we post! You'll be able to view them on our Facebook page and our YouTube channel.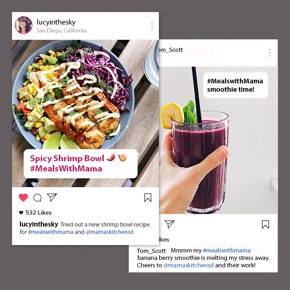 SHARE: Create your very own short video, take a photo of of your favorite comfort food, or grab a family-favorite recipe and share them on social; tag Mama's Kitchen and use the hashtag #MealsWithMama
HONOR: Just cook! For the last 28 years, the success of Mama's Day would not be made possible without the support of so many people in the food and beverage industry. We honor them through these challenging times and we look forward to seeing them back up and running and serving our community delicious food and drinks in the near future. Take some inspiration or order food from our previous partners listed below, and enjoy something you love with those you love. (I'm sure Mom wouldn't mind getting a scratch-made meal for Mother's Day). 😉
We may not be celebrating Mama's Day as we typically do, but we thank our sponsors, partners and event goers for their continued generosity and participation in this fundamental and legendary event in support of our critically ill neighbors. We are serving more people than ever before and we are grateful to our supporters who enable us to keep up with the demand.
Love for our Mama's Day Partners
Many of our Mama's Day partner food and drink purveyors are still open for take-out or delivery at this time! Please think of them for your next meal.
Mama's Day will be back! Save the date for 2021 as we look forward to the best one yet. Friday, May 7th, 2021.
If you have any questions please email Silvia Dominguez at silvia@mamaskitchen.org.
Thank you for your support and be well!
Thank You to our 2020 Sponsors
Photos